Chainlink (LINK) has been embroiled in a parabolic rally in recent weeks.
The asset has gained hundreds of percent since the March capitulation lows.
Chainlink could undergo a correction as technical signals suggest that the asset is overbought.
There are also on-chain signals that show LINK investors are hesitant to believe the rally will continue.
What may boost the asset's bull case, though, is an increasing number of short position holders. This increases the likelihood of a "short squeeze" that will transpire, pushing prices higher once again.
Chainlink Could See Steep Correction After Surge
Chainlink is expected to drop after surging dozens of percent in the past few days, analysts say. The cryptocurrency is already down 4% on the day per data from Coin Market Cap.
The head of technical analysis at Blockfyre, a crypto research firm, shared the chart below on August 14th. It shows that Chainlink is poised to correct as per Elliot Wave. Elliot Wave is a type of technical analysis that suggests markets can move in predictable waves as dictated by investor psychology:
"4hr chart. It's coming fam. Also I don't know anything about Elliot Waves at all. But if I did. I'd say that's a clear 5 wave structure. But I don't and this fits my very short term bias and thesis so we're going to roll with this."
Chart of LINK's price action against the dollar over the past few months/years from trader Pentoshi (@pentosh1 on Twitter). Chart from TradingView.com
The expectations of a price correction have been echoed by other analysts.
Tyler D. Coates, a cryptocurrency technical analyst and author, noted that Chainlink's parabolic advance is likely in its last phase:
"LINK target is $17.5 which would appear to line up nicely with a top of Phase 4 in the #Hyperwave fractal. Definitely not a buying opportunity, $15 – $17.5 is for taking profit."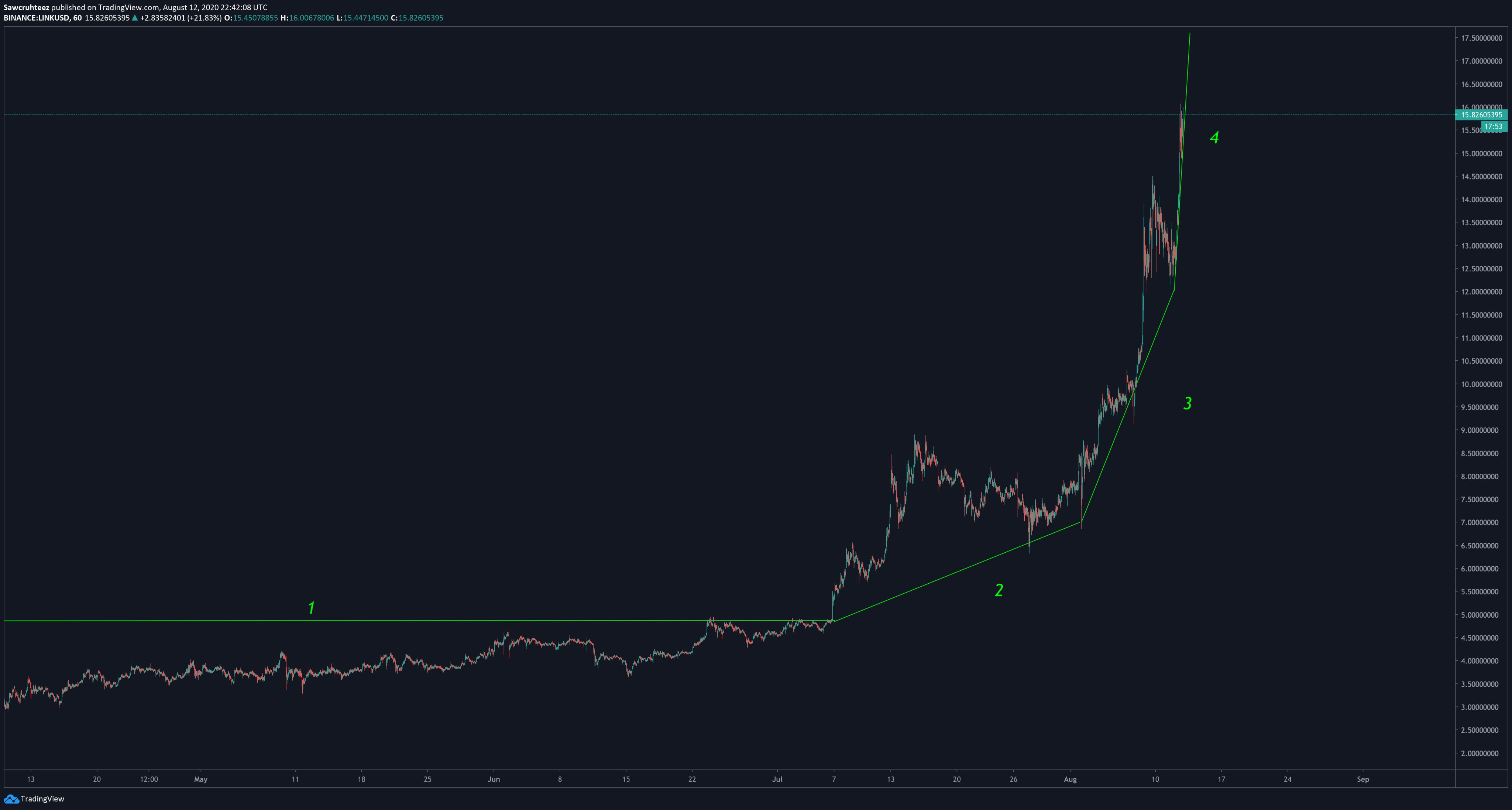 Chart of Chainlink's macro price action with a Hyperwave anaylsis by trader and technical analysis author Tyler D. Coates (@Sawcruhteez on Twitter). Chart from TradingView.com
On-chain data agrees with this bearish sentiment. As reported by Bitcoinist previously, blockchain analytics firm Santiment found that there has been a spike of LINK deposited into exchanges, suggesting investors want to cash out before an unexpected drop.
Short Squeeze?
What may boost LINK, though, is the growing number of short positions building. According to FTX, the funding rate (hourly) of its Chainlink futures market has reached -0.006%, which suggests there are more shorters than long position holders again.
Some traders see negative funding rates as a sign of an asset poised to move higher. Whether LINK follows this trend, though, remains to be seen.
Photo by 🇨🇭 Claudio Schwarz | @purzlbaum on Unsplash
Chainlink Price tags: linkusd, linkbtc
Charts from TradingView.com
Analysts Are Expecting Chainlink (LINK) to Pull Back After Parabolic Advance
Source: https://bitcoinist.com/analysts-chainlink-pull-back-parabolic-advance/?utm_source=rss&utm_medium=rss&utm_campaign=analysts-chainlink-pull-back-parabolic-advance