Ethereum has begun to drop over the past 24 hours as the asset was once again rejected at $400.
$400 is a psychological and technical resistance for the leading cryptocurrency, which is still up 50% in the past two weeks.
Analysts believe that the recent price weakness could be a precursor to a stronger retracement in the days ahead.
One commentator is predicting a drop to $300.
This purportedly lines up with important technical levels on Ethereum's medium-term chart.
Investors in ETH should watch Bitcoin and other markets for some directionality moving forward.
Ethereum Could Soon Drop Further, Says Analyst
Ethereum is setting itself up for a larger drop in the days and weeks ahead, say analysts as ETH bleeds lower. As the cryptocurrency slid to $380 on Friday morning, one analyst shared the chart seen below depicting this sentiment.
It shows that ETH is currently setting up for a retracement towards the pivotal $300 level. He says that this would line up with the "Fibonacci and horizontal confluence."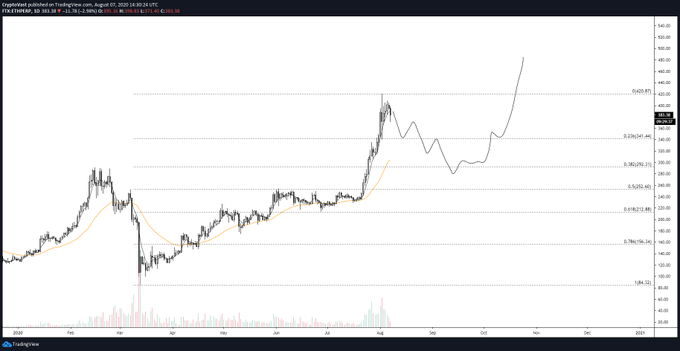 Chart of ETH's price action since the start of the year with analysis by trader "Vast" (@Cryptovast on Twitter). Chart from TradingView.com
The expectation of a move towards $300 for Ethereum was echoed by another trader, who said that the asset remains below a macro range high.
"Im only considering 12k+ btc prices once it closes convincingly above the HTF mid range. Until then, expecting lower prices to get back fully into bitcoin and possibly eth," the analyst wrote discussing how ETH could move lower.
All Eyes on Bitcoin
While Ethereum may have this technical case for the downside, it's important to watch Bitcoin. In bear trends, it can be BTC who leads the market lower.
As it stands, most analysts remain cautiously bullish on Bitcoin. The leading cryptocurrency has held pivotal support levels during the recent drop, maintaining $11,500 most importantly.
Analysts say that $11,500 is literally the most important level for BTC in its history. The asset managing to close the weekly candle above $11,500 in approximately two days should cement that the uptrend is intact.
Commentators are also bullish on Bitcoin for fundamental reasons.
The ongoing stimulus talks in the U.S. are currently in turmoil, though a plan will come through eventually. That bill will mark the latest handful of trillions in dollars printed/debt issued, boosting the value of scarce assets like gold and Bitcoin.
As Dan Morehead and Joey Krug of Pantera Capital wrote in March:
"Now that we're in the trillions, the deficit just simply has to have a positive impact on the price of things not quantitatively-easable — stocks, real estate, cryptocurrency relative to the price of money. Said another way, the BTC/USD cross-currency rate will rise."
How exactly BTC is affected by the next stimulus, though, remains to be seen.
Featured Image from Shutterstock
Price tags: ethusd, ethbtc
Charts from TradingVIew.com
Analysts Fear an Ethereum Drop to $300 As Price Becomes "Heavy"
Source: https://bitcoinist.com/analysts-fear-an-ethereum-drop-to-300-as-price-becomes-heavy/?utm_source=rss&utm_medium=rss&utm_campaign=analysts-fear-an-ethereum-drop-to-300-as-price-becomes-heavy