Ethereum, following Bitcoin's lead, is effectively flatlining into the week's close around $390.
This is above critical support levels, though bulls are not yet convinced that ETH is primed to move higher.
Analysts say that ETH could actually drop towards the $370 level, then push higher.
Multiple analysts agree with this line of reasoning, citing a variety of technical reasons.
Ethereum does have a positive fundamental case, though, that may limit downside.
What may also limit the downside for the leading cryptocurrency is strength in the price of Bitcoin. Ethereum is still correlated with BTC despite some discrepancies over recent weeks.
Ethereum Could Soon Drop Towards $370: Watch Out
Ethereum is primed to drop to the $370 range as the asset is failing to push higher above local resistances, say analysts. One trader shared the chart below on August 9th, showing that ETH could drop to ~$375 in the days ahead. For context, $375 is a 5% drop from the current price of $393.
"Current expectations go something like this: We're past the initial phase of easy support/resistance range trades. Now we're going to chop/take liquidity till the break. With that said, I'll most likely fill with market orders if I see what I want to see," the analyst wrote in regards to the chart below.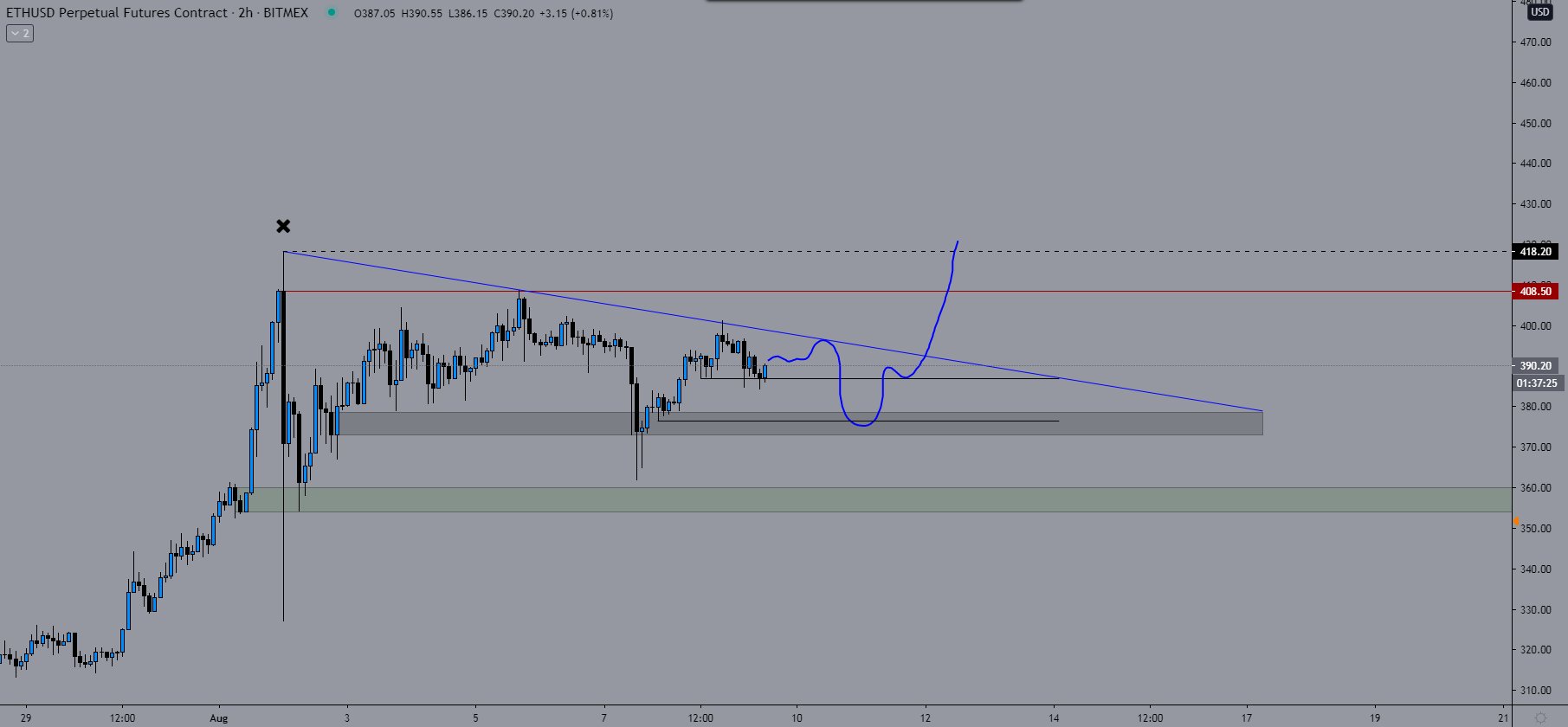 Chart of ETH's recent price action (since the end of July) with analysis by trader Chase (@Chase_NL on Twitter). Chart from TradingView.com
The expectations of a drop into the $370 range have been echoed by other market participants as aforementioned.
As reported by Bitcoinist previously, one trader noted that Ethereum could retest $375 due to weak price action and the potential formation of a textbook top chart pattern:
"Price tagged weekly open perfectly to the pip, now I'm watching how it reacts to retesting the breakdown point, might look for hedge short around that area if price action weak."
Further harming the ETH bull case, Ethereum has started to show some weakness against Bitcoin, with the ETH/BTC ratio trending lower. With the altcoin leading BTC higher over the past few weeks, weakness in the ETH/BTC ratio could suggest that the bull trend has been spent.
Dependent on Bitcoin
Ethereum's price action, at the end of the day, is somewhat dependent on Bitcoin.
Bitcoin, fortunately for holders of ETH, is currently in a bullish spot after closing its weekly candle above $11,500 for the first time since early 2018. An analyst has said that bears have little hope if the cryptocurrency closed the weekly candle above that level.
This sentiment is based on the fact that Bitcoin struggled to break above $11,500 during 2019's bull market, resulting in a ~50% correction.
Featured Image from Shutterstock
Price tags: ethusd, ethbtc
Charts from TradingView.com
Here's Why Analysts Are Expecting For Ethereum To Drop Back Towards $370
Source: https://bitcoinist.com/analysts-expecting-ethereum-drop-back-towards-370/?utm_source=rss&utm_medium=rss&utm_campaign=analysts-expecting-ethereum-drop-back-towards-370